We are guided by the care concept of Monika Krohwinkel and look after people of all care levels 1 to 7 (except persons with respiratory mechanical support). The care concept is the basis for our daily activities and not only provides orientation for our staff, but also for all persons who are in contact with our hospital. The focus of our work is always the preservation and promotion or the regaining of independence and well-being of the person in need of care. In order to achieve this in the best possible way, it is also important for us to specifically record, support and promote the abilities of the caring person as well as the personal caregivers (relatives...). This goal remains the same, regardless of whether the person in need of care is healthy, ill or disabled and whether he is already in the last phase of life.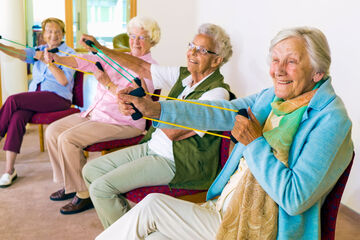 Psychiatric care aims to accompany and support the mentally ill people in everyday life.
These task include:
Perceive, strengthen and promote the abilities and resources of the resident
Promote and maintain autonomy in daily life
Offer daily and weekly structuring in the field of practical life
Observing and perceiving changes in all areas
Cooperation, coordination and communication with other professional groups
The goals of the psychiatric care:
Psychiatric care is more concerned with the impact of the disease than with the disease itself. The purpose of psychiatric care is to achieve the greatest possible degree of independence from care with the person concerned. In doing so, we orientate ourselves to the needs and needs of individual care and support for those affected.

"Competence and quality at all times" is our motto - a corporate philosophy lived by SANLAS Holding and its facilities. Since 2005, SANLAS Holding is committed to meeting the extensive quality requirements of the international QM standard EN ISO 9001 as amended in their operations and processes, aiming at a continuous reviewing and improving of the quality of services.