Illnesses & treatment focuses
Psychiatric conditions and situations that can be treated in our hospital
Indications
Fatigue, burnout
Depression
Psychosomatic disorders
Anxiety
Post-treatment after acute hospital stays
After care after severe emotional crisis
Mental trauma
Behavioral disorders with physical disorders and factors
Certain personality disorders
Contraindications:
Acute mental disorders
Acute self or other hazard
Predominate bed-rest and / or long-term care
Brain organic disorders
Lack of motivation towards rehabilitation
Cases where the treatment of specialized institutions is more appropriate (for example patients with alcohol and / or drug dependence, eating disorders)
What is important to us here is a holistic approach with a focus on communicating psychophysical relationships (keyword: exercise - nutrition - mental and physical health).
To get better and better we feel obliged to evaluate our work and do research on burnout and psychiatric rehabilitation. Our highly qualified medical-therapeutic team is supported by our competent mental health and nursing staff.
How do I submit a rehabilitation application for mental illness rehabilitation for my patients?
If your patient suffers from disorders of psychosocial health (adjustment disorders, depression, anxiety disorders, congestion syndromes, burnout...), we offer the possibility of a 6-week rehabilitation in the Private Hospital Hollenburg. If you provide a curative procedure for your patient, tick on the application form "Rehabilitation" and "Other" and list "Mental illness" as an indication. Under "Location" you have the opportunity to choose the Private Hospital Hollenburg as a desired contract facility.
Application for rehabilitation, spa or relaxation stay - download here.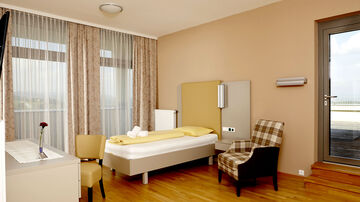 Pensionsversicherungsanstalt
SVA of the industrial economy
SVA of the farmers
Insurance company public employee
SVA for railway and mining
LKUF Upper Austria
GKK Lower Austria
Hospital for the City of Graz
Hospital for the City of Vienna
Of course, we are also happy to serve private patients - find out more about our offer here!